Last month, the TRA hosted the third in our series of tours for the James Webb Space Telescope, which is being assembled in the M8 High Bay at Space Park.  The tour was free to US citizens, and over 100 TRA members and guests attended one of the two sessions. We had scheduled four opportunities for a one-hour tour, two on Tuesday, October 15, from 10:00 AM to noon, and the two on Wednesday, October 30th, from 1:00 PM to 3:00 PM. All tours were at the Space Park facility in Redondo Beach, CA.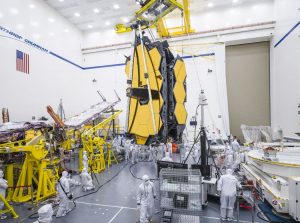 This was a particularly opportune time to visit because the Integrated Science Instrument Module, including the mirrors and the electronic instrument assembly was recently mated to the Spacecraft Assembly.  So, the for first time, the entire observatory can be seen in near final form.  Visitors on the October 15 tour were treated to a special viewing because the 70 foot long sunshield was deployed and tensioned (near flight-like configuration).  The sunshield was deployed, but not tensioned by the time the second tour occurred.
JWST is currently in the Observatory Integration and Test phase, where the OTIS (Optical Telescope Element and Integrated Science Module) and the Spacecraft Element are being integrated for the final time. This phase is scheduled to run through June 2020 and is followed by three months of shipping and launch preparation activities. Launch is currently scheduled for the end of November, 2021.
While waiting for the tour, visitors were treated to a video playing in the E2 Presentation Center entitled "Into the Unknown"  which described the JWST mission and challenges, and featured some of the many NG engineers and scientists working on the project.  While in the High Bay Observation Deck, visitors also got a chance to watch the JWST deployment sequence.  Also, our visitors toured the recently updated "Aerospace in Motion Museum" that is on the first floor of Building E2.
Special thanks for the success of the tours goes out to Garland Campbell, from the Northrop Grumman Corporate Citizenship office, who set up and helped conduct tours of the NIM.  TRA volunteers included Dena Bouskos, Rich Captor, Mary Ann Chory, Charlie Clendening, Bob Doll, Annamarie Ellington, Reggie Jue, Martin Mohan, Stephanie Sundius, Jack Trost, and Don Urfrig.
Based on the interest expressed for this last tour, we will plan on additional events in 2020.  We attempt to accommodate as many TRA members as possible.  Let us know if you have suggestions that can make this a better experience.