Hits: 151
TRA is pleased to announce that we have arranged for a Zoom virtual event with Steven D. Lunny, vice president and program manager for the Ground Based Strategic Deterrent (GBSD) Engineering and Manufacturing Development (EMD) program in the Strategic Deterrent Systems Division at Northrop Grumman's Space Systems, who will provide a top-level overview and answer questions on the GBSD mission and program.
The event will be on Friday, October 15th, 2021, at 9:00 to 10:00 AM Pacific Daylight Time. NOTE: This event was originally scheduled for October 15 but has been rescheduled due to a conflict.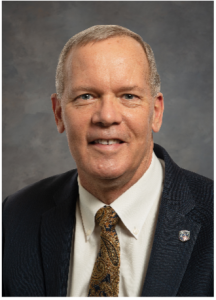 Online registration for this event is required and is available at our website, www.tra-spacepark.org. The Zoom meeting details will be provided by email upon your registration. You will be able to submit questions in advance and you will have an opportunity to ask questions at the end of his talk. We plan to record the event and the video will be available on our web site if you can't join us in real time.
Please note that depending on his schedule and customer needs, there is always a chance we might have to reschedule. We will notify registered participants if that occurs.
GBSD is a vital U.S. Air Force program to modernize the nation's Intercontinental Ballistic Missile (ICBM) system. In his role as program manager, Lunny is responsible for cost, schedule and technical execution of the GBSD EMD contract activities and the overall management of the industry team responsible for modernizing the land leg of the nuclear triad.
Previously, Lunny served as vice president and program director for the Advanced Mission Programs Portfolio for Space Systems at Northrop Grumman's Aerospace Systems (NGAS), vice president of the Integrated National Systems business unit within Northrop Grumman's Mission Systems (NGMS) and vice president and program manager for the New Moon program within NGMS. Earlier within NGAS, Lunny served as the AMP deputy program manager and as the program manager for the Advanced Technology Programs (ATP) and served as director of System Engineering at Northrop Grumman's former Space Technology sector. Lunny has more than 37 years of system engineering and program management experience, spanning payloads to mission levels throughout all phases of the system development cycle across multiple missions and customer communities.
Lunny earned a Bachelor of Science and a Master of Science in electrical engineering from the University of Virginia.
In September 2020, the United States Air Force awarded Northrop Grumman Corporation the $13.3 billion EMD contract to develop a new nuclear missile, the GBSD, intended to replace the 50-year old Minuteman III (MMIII) ICBM. MMIII has been Steven D. Lunny deployed as the ground-based leg of the U.S. nuclear forces structure (the "Triad") since 1970.
MMIII first entered service around 1970 and has undergone several life extension programs over the past 50 years, the most recent of which occurred in the late 2000s and included a replacement booster and missile guidance computer. In the next decade, both of these components may face reliability concerns as they reach the end of their intended lifespan. A 2016 Pentagon study recommended replacing MMIII rather than conducting another life extension. The study concluded that the replacement system would meet current and expected threats, maintain the industrial base, insert more reliable technology, produce a modular weapon system concept, and reduce life cycle cost.
The GBSD EMD phase includes full system design, qualification, test and evaluation, and nuclear certification. Upon successful completion of EMD, the Northrop Grumman team will begin producing and delivering a modern and fully integrated ICBM system to meet the Air Force's schedule of initial operational capability by 2029.
In contrast with MMIII missiles, the GBSD employs a modular design and open architecture, allowing for the replacement of aging and outdated components. According to the Air Force, this modular approach would reduce the life-cycle cost of GBSD and provide flexibility for improvements throughout the life of the weapon system. Unlike in many current DOD systems, open systems architectures allow the Air Force to control the intellectual property of the system, including the system's source code.
This allows multiple vendors, in addition to the contract winner Northrop Grumman, to compete for and complete future upgrades and improvements to the system. These types of upgrades might become important as technology evolves and could allow for improvements in the safety and reliability of the missile system. They could include better guidance systems or new types of countermeasures that might allow the missile to penetrate an adversary's ballistic missile defensive systems.
The MMIII engines use heavy steel casings to house the missile propellant. These casings add to the weight of the missile and affect its flight range and payload capabilities. Modern rocket boosters, like the Navy's D5 Submarine Launched Ballistic Missile, use composite material to save weight and increase potential payload. GBSD's boosters use a composite material, making GBSD significantly lighter than the MMIII. Most notably, this will increase the missile's throw weight, which is a measure of the weight of the payload that the missile can deliver to a particular range.
Please plan to join us for what will be an interesting presentation.