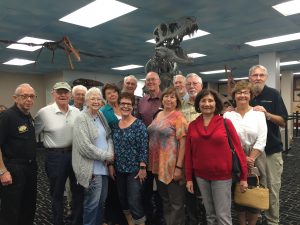 In May 2016 the San Diego TRA chapter visited the Roynon Museum of Earth Science and Paleontology in Escondido, and were given a private tour of the large collection of fossils and gems by the founder himself.
Photo, left to right:
Front row: Mr. Roynon, Paul Jordan, Elaine Jordan, Judy Hertzberg, Barbara Newman, Esther Guilfoyle
Back row: Gary Hall, Carol Denton, Jim Denton, Jim Everett, Jon Negaard, Paul Guilfoyle, Judy Dobrotin, Boris Dobroti
---
The San Diego TRA Chapter for the past three years has had an annual July outing to Del Mar Racetrack during the thoroughbred summer season. A few hours of wagering on the ponies are then followed by a delicious dinner at the nearby seafood restaurant Brigantine.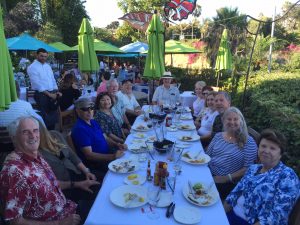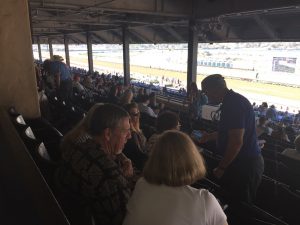 July 21 outing at the Del Mar Races and followed by dinner at Brigantine restaurant.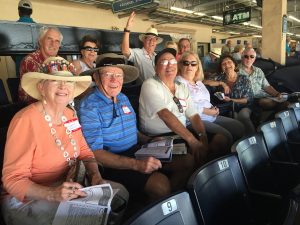 Photo, left to right:
Back row: Jim Denton, Carol Denton, Joe Larkin, Judi Berlin, Rick Berlin.
Front row: Elaine Jordan, Paul Jordan, Gene Sloane, Cheryl Sloane, Esther Guilfoyle, Paul Guilfoyle.
Photographer: Judy Hertzberg
---
The San Diego TRA chapter holds events every other month, and in September 2016 was pleased to welcome retired Vice President and Radio Systems GM Dave Vandervoet to lead a discussion on, and tasting of, world class chocolates. Dave is an expert on the subject, being a member of the Hawaii Cocoa Council. Almost 40 members and guests attended the session at the Bernardo Heights Country Club, and were treated to a delicious sampling and fascinating briefing.