JWST Tour
October 30, 2019 @ 1:00 pm

-

3:00 pm
The TRA is hosting the third in our series of tours for the James Webb Space Telescope, which is being assembled in the M8 High Bay at Space Park.  Guests are welcome; however, these tours are open only to United States Citizens.  You must pre-register by filling out the form below.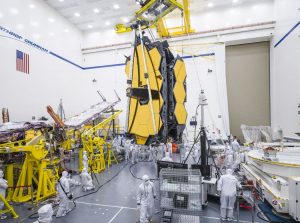 This is a particularly opportune time to visit because the Integrated Science Instrument Module, including the mirrors and the electronic instrument assembly was recently mated to the Spacecraft Assembly.  So, the for first time, the entire observatory can be seen in near final form.
We currently have scheduled two tours, one on Tuesday, October 15, from 10:00 AM to noon, and the second on Wednesday, October 30th, from 1:00 PM to 3:00 PM. Both tours are at the Space Park facility in Redondo Beach, CA.
For more information, or to register for the event, please click here.